WINTER TOURS: November to February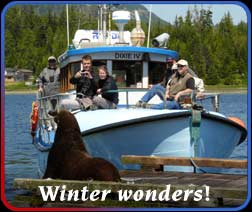 Broken Group Island Sunset Cruise
Sunsets here are glorious and each one is different. This trip is a photographer's paradise featuring low-angle light and no crowds. Departure is timed to get a sunset near the end of our tour. Whale sightings are possible, but not likely. Island scenery, eagles, hundreds of sea lions, seals, winter sea birds, and of course the sunset, are highlights of this cruise.
DISCOVERY (zodiac): 3 hours
DIXIE IV (cruiser): 4 hours
November to February – Afternoon departure time varies with sunset time.
Adult: $95 Child (4-12 yrs.): $75 (under 4): Free
---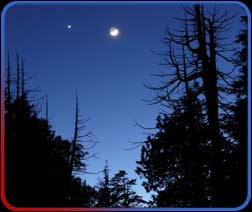 The Perfect Storm or
Sunset Harbour Cruise
Storm watching from shore is exciting! Try it from a boat! This is actually a pleasant scenic harbour tour past the fish boat docks to the mouth of the harbour for just a taste of the "rough stuff". Harbour seals, sea lions, eagles and sea birds are quite common. Of course if it is a sunny day and not stormy, we get to make it a sunset harbour cruise.
DISCOVERY (zodiac): 1 hour
DIXIE IV (cruiser): 1.5 hours
November to February
2:00 pm for Storm Cruise; variable departure time for Harbour Sunset Cruise.
Adult: $55 Child (4-12 yrs.): $45 (under 4): Free
Summer Tours:
May to October
Islands, Whales & Bears
Zodiac or Cruiser trips to the
Broken Group Islands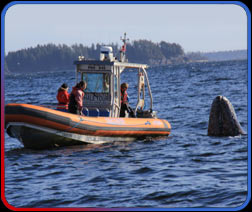 Spring Tours:
March to April
Gray Whale Adventure
- Spring Migration