Choose your boat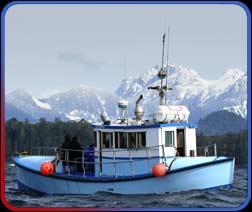 The Dixie IV
Historic and comfortable!
A former Canadian Coast Guard search and rescue boat, 12 metres (37 feet). Built in 1950, she was with the Coast Guard lifeboat station in Tofino until 1972, then Pacific Rim National Park until 1980 and with us since then. In 1985 we built her a new main cabin to seat 8 or 9 guests inside. There is also outdoor, open deck viewing space and a small forward cabin with a marine toilet. The ride is at a slower, more relaxed, pace and is more suitable for those wanting to do general scenic photography.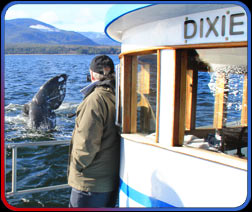 Classic wooden boat
Ideal for rainy days or those who wish a slower paced tour.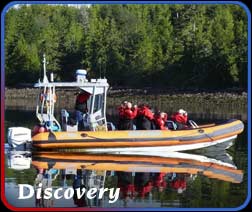 The Discovery (zodiac)
Fast and fun!
An 8 metre (27 foot) rigid hull inflatable. This is a fast and fun open boat with padded seating for up to 12 guests. It is the type used by coast guards worldwide due to their extreme seaworthiness and safety. Warm, overall, coast guard approved, cruiser suits (with a built in life jacket) are provided for your comfort and safety. Warm gloves and hats are available as well as rubber boots if needed.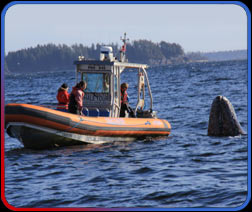 We do our best to avoid the bumps; however, if you have back or neck problems, a heart condition, or are pregnant, we suggest you choose our other boat, the Dixie IV.