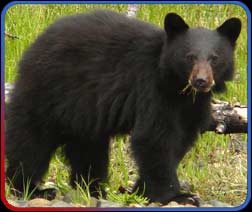 We are dealing with the natural environment which we cannot control, so there is no guarantee. However, most years the sighting percentage for bears on a bear tour and whales on a whale tour is about 95%.

Our extensive experience (over 40 years) nature cruising in Barkley Sound has given us intimate knowledge of the yearly and daily movements of the wildlife; which can change from one year, month, week, day, or hour, to the next. Our boats are in constant communication by two-way radio. Whales and bears though, are only part of the magic of Barkley Sound. The beauty of the coast is stunning and on almost every trip we see Sea Lions, Harbour Seals, Bald Eagles, numerous Sea Birds and quite often a Sea Otter.

During recent summers, our most dependable whales have been further away, which means our faster "Discovery" zodiac style boat has a higher chance of encountering a whale and our slower "Dixie IV" cabin cruiser has a lower chance. We therefore do not offer a summer "Whale Watching" trip on the Dixie IV. Instead, in addition to a Bear Watching tour, we have a general marine mammal nature tour called "Islands and Sea Things".